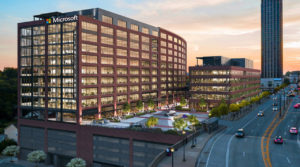 New AI and cloud services office will boost local economy with 1,500 new jobs, retail space
Fortune 100 company Microsoft Corp. is making a major move into greater Midtown Atlanta, a deal that includes 1,500 new jobs and is the largest commercial real estate transaction in the United States since mid-March.
It's taking place while the economy is facing the worst economic fallout since the 1930's due to COVID-19. But the promise of a robust talent pool from area universities, proximity to other tech giants like NCR Corp. and a history of successful public-private partnerships helped solidify Microsoft's decision to put down roots in Midtown.
Commercial real estate brokerage firm T. Dallas Smith & Co. served as the exclusive tenant broker representing Microsoft securing its lease in the Hines' Atlantic Yards project at Atlantic Station. The company's new facility will occupy 523,000 square feet at Atlantic Yards, a two-building office project.
"With other markets also under consideration, it was no guarantee that the State of Georgia would secure this business opportunity with Microsoft," said Dexter Warrior, COO of T. Dallas Smith & Co., the largest African American-owned commercial real estate firm in the country focused exclusively on tenant and buyer representation. "Once the City of Atlanta made the short list, we completed a robust market research effort with a particular focus on locations in the heart of the city."
Atlantic Station's mixed-use development, the proximity of the Downtown Connector and various amenities in the vicinity were all factors in Microsoft's decision to choose the area.
"Hands down, Midtown has been the hottest, strongest submarket for at least five years," Warrior said.
Microsoft's site search started in Spring 2019, with the wheels in motion to open an office here long before the pandemic. The lease was officially executed in late-May 2020 and the company has long-term plans to hire hundreds of new employees locally, which will positively impact the city's economy in a time when Atlanta could really use a boost.
"It's creating a major new employer for the southeast region and will be an exciting option for students graduating from Georgia State University, Georgia Tech, The Atlanta University Center, and many other colleges and universities" Warrior said. "Microsoft is an excellent, well respected company that will have a significant presence in Midtown Atlanta."
"At Microsoft, we understand the positive impact that we can bring as an active partner when we are fully engaged with local businesses and the surrounding communities in which we operate," said Mike Lawings, regional director of Real Estate & Facilities Americas for Microsoft. "From committing to the use of minority suppliers in our build out and daily operations, to community program management, to partnering with the many historic universities in the area — we are excited about the opportunities ahead to work hand-in-hand with local organizations and community groups in Atlanta to share technology and create training programs that ensure the both the site and the city thrive."
Microsoft's new project will be focused on artificial intelligence and cloud services. The plans also include a new retail space for engaging directly with customers. Microsoft is currently occupying 40,000 square feet of WeWork co-working space at 881 Peachtree. It also operates a cloud computing engineering center in the Coda Building at Technology Square and maintains offices in Alpharetta and Buckhead. To apply for a career at Microsoft, visit their website.
The new facility is anticipated to open in summer 2021.