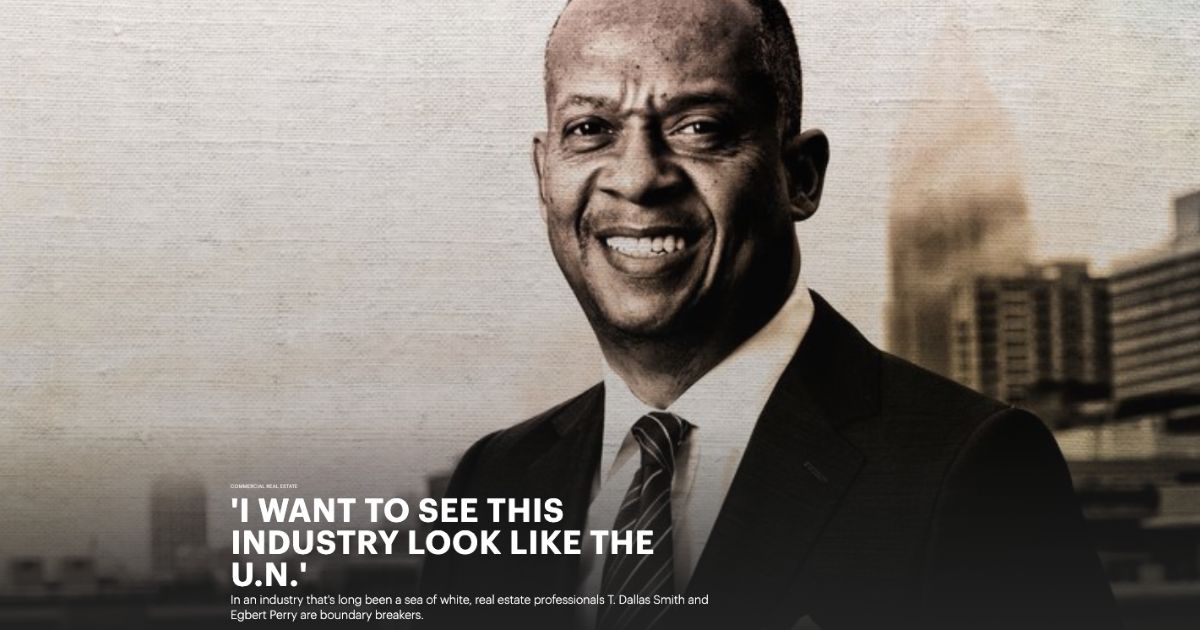 In an industry that's long been a sea of white, real estate professionals T. Dallas Smith and Egbert Perry are boundary breakers.
By Savannah Sicurella | Atlanta Business Chronicle
Not long after T. Dallas Smith joined Cushman & Wakefield of Georgia, a friend invited him to talk to an elementary school in East Lake.
One student, maybe eight or nine, stood out to Smith. Indifferent, he slouched and had his hands in his pockets. He raised his hand.
"Before you begin," Smith remembers the student telling him, "how much money do you make?"
The frankness of the child, who Smith calls "Little Jimmy," has informed his approach when he speaks to college students and other young professionals about the commercial real estate industry. Don't start with the poetics about changing a city, or helping companies find their home. Start with the money.
Smith, who runs the largest Black-owned tenant representation firm in the country, believes his core purpose is to share the industry with people whose conception of real estate stops at home sales. This is particularly true for Black people, Smith said.
Commercial real estate is a predominantly white industry, even in Atlanta. Nationally, only around 3% of Black households own commercial real estate, compared with 8% of their white counterparts, according to a 2022 report from the Brookings Institute. Of that group, the average assets held by white and Black households are $34,000 and $3,600, respectively.
It's also an industry built upon generations of social circles where relationships are a form of currency. For most young Black professionals looking to begin a career in real estate, this social network often doesn't exist. This is because their ancestors were not given a seat at the table until the latter half of the century. Cushman & Wakefield of Georgia, for example, didn't hire its first Black broker until 1982, when Smith joined. 
But successes build momentum. And about 15 years after he started his own firm, Smith and four other Black brokers advised Microsoft Corp. when it leased more than 500,000 square feet at Atlantic Yards. A year later, the same team worked on Atlanta's largest deal of the decade: Microsoft committing to acquiring 90 acres on the Westside. (As of Feb. 3, that campus is delayed). It's a deal that couldn't have happened 10 years ago.
"All I'm trying to do is to create an environment that I wish had existed in 1982," Smith said. "God gave me one word, and that's exposure. I want to see this industry look like the U.N."
Click here to view the full article