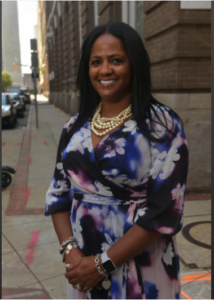 Audra Cunningham spent more than 20 years working in telecommunications before switching gears in 2008 to pursue a career in commercial real estate. Her first transaction? President Barack Obama's Atlanta campaign headquarters on Spring Street.
Now she is the first woman to become a senior executive at T. Dallas Smith & Company LLC, the largest African American-owned commercial real estate brokerage firm in the country focused exclusively on tenant and buyer representation.
"I believe when the demand rises for more senior-level women and specifically women of color at the table in competing for business, things will change at a swifter pace," she said.
What led you to your career? After a 23-year career in telecom, I wanted something more entrepreneurial. I moved to Atlanta in 1993 and was fascinated by all of the development I witnessed over the years. I didn't know how it was happening, but decided I wanted to be a part of it. After reading the book "How to Succeed in Commercial Real Estate," I decided office tenant rep was for me. I began going to commercial real estate networking events. I was told because I was Black, female and over 40, I wouldn't be successful in this business. At the time, we were about to elect our first Black president, so I didn't accept that logic! Fortunately, I met [corporate real estate executives] James Pitts and Steve Dils, who thought differently. The rest is history.
Who was your biggest influence in your career? I would have to say Benjamin F. Wilson, chairman at Beveridge & Diamond. I was recruited to join JLL's Washington, D.C. office in 2010. Since I didn't know anyone in D.C., I asked five people in my Atlanta network to provide two people for me to call when I arrived. Through one of my new contacts, I met Ben at a networking event. When he heard my story, he gave me his card and suggested we have breakfast. After our first breakfast, it became almost a monthly meeting. He was committed to supporting me and helping me be successful. He invited me to the National Bar Association's annual conference one year and introduced me to partners, managing partners and general counsel from across the country, which opened so many doors for me.
What is the biggest challenge in your career? The biggest challenge is managing my duties as CAO while building my brokerage business. As CAO, I am responsible for talent development, and maintaining our processes and procedures. I am committed to my duties as CAO, but there aren't enough hours in a day. Finding the balance is a day-to-day challenge.
What's the most rewarding part of your job? The absolute best part of my job is watching the junior brokers grow. Seeing them win assignments and build their confidence gives me the energy I need. Dallas has created an organization that gives everyone an opportunity. I love seeing the lightbulb come on!
What's the hardest business lesson you've learned? Lesson 101: Get everything in writing. Verbal agreements often leave ambiguity and unfortunately, not everyone has the best intentions.