T. Dallas Smith & Company brokers named President, REALTOR®
of the Year, and Director at the 2022 ACBR Annual Meeting and Awards Program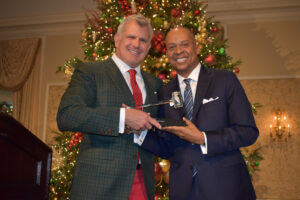 Atlanta, GA – T. Dallas Smith, Founder and CEO of T. Dallas Smith & Company (TDS&Co), was handed the President's gavel at the Atlanta Commercial Board of REALTORS® Annual Meeting and Awards program. Dallas will take the reins on January 1, 2023, of the largest commercial Board in the country.
As a preeminent leader and nationally-recognized thought leader, Dallas will bring both his commanding presence and his devout purpose to the ACBR.
"I am honored to be chosen to lead this organization that is both a foundation and lighthouse for commercial real estate professionals in Atlanta," Smith stated. "It is my mission to not only carry on the great legacy laid by past presidents but to create an opportunity for exposure with young people who may not have seen this industry as a possibility before now."
Dallas has significant experience leading major organizations. T. Dallas Smith & Company is the largest African American-owned pure tenant rep commercial real estate firm in the country and has been responsible for some of the largest office deals throughout the city. As the 2023 ACBR President, Dallas will be responsible for continuing the bold legacy of the Association and will represent the nearly 2,500 members in local, state, and national arenas. He will oversee a Board of Directors of more than 40 people and will be the powerful voice uniting all of the commercial real estate associations in Atlanta.
Another recipient from the team of T. Dallas Smith at the ACBR's Annual Meeting was Dexter Warrior, Principal and COO, who was awarded the most prestigious distinction of the program – the highly coveted REALTOR® of the Year.
"Humbled and grateful would be two words to describe what I am feeling right now," Warrior shared. "Being in a position to have a positive impact on the next generation of leaders; sharing the knowledge and experiences I have gained along the way, is part of my purpose. I am honored!"
Audra Cunningham, TDS&Co EVP and CAO, joins the board as a Director representing the Empire Board of Realtists as its Commercial Council Chair, and Corey Ferguson, TDS&Co Principal and VP, will Chair the highly regarded ACBR Diversity Mentorship program – one of the most successful models for providing opportunities for women and people of color in commercial real estate.
The year ahead will be one of passion, innovation, and inspiration for both the ACBR and T. Dallas Smith with these outstanding leaders at the helm.